Surfing Queensland 2024 event calendar
Surfing Queensland has unveiled the 2024 event calendar with additional events confirmed to take place across Queensland's major surfing regions in 2024 including nine events on the Sunshine Coast.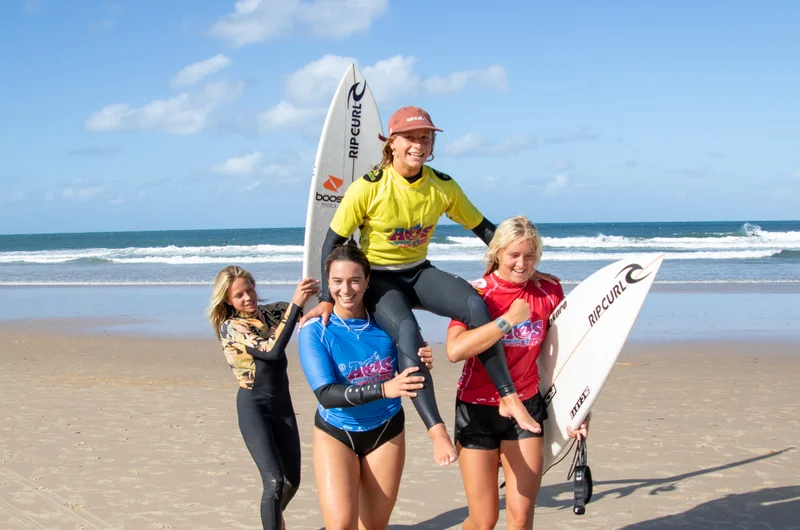 Surfing Queensland will celebrate its 60th anniversary in 2024 and the milestone year is shaping up to be the biggest year.
Building on the success of previous years, 2024 offers a huge line-up of benchmark events, with new additions to the calendar which will cater for all levels and ages, from aspiring groms to seasoned professionals. Nine events are planned for the Sunshine Coast.
Sunshine Coast Council Economy Portfolio Councillor Jason O'Pray said these grassroots surfing events were a great way to engage the surfing community.
"Waters sports like these are a natural part of our culture here on the Sunshine Coast and I would love to see more of our groms progress to professional surfing," Cr O'Pray said.
Surfing Queensland's event manager, Elliot Dempster, expressed his excitement for the anniversary year and to expect bigger and better things for 2024.
"As we celebrate 60 years of Surfing Queensland, we are excited to unveil an event calendar that reflects the organisations dedication to the sport in our state," said Mr Dempster.
Surfing Queensland will introduce three new events that will cater for both recreational surfers and competitive surfers and also contribute to the growth and evolution of the sport in Queensland. New events include Julian Wilson Serious Fun Project (Sunshine Coast), Surfing Queensland Luncheon (Burleigh Heads) and Sunshine Coast Junior Pro.
Inaugural events that were launched in 2023 will continue to hold their place on the calendar, including the Oceanside GromQuest, Surfing State of Origin, Surfing Queensland Golf Day and Cooee Grommet Pro. 
Surfing Queensland Chief Executive Officer, Adam Yates, said Surfing Queensland had exciting plans for 2024 and is always looking for ways to improve events, programs and competitor experiences. 
"As we celebrate 60 years of Surfing Queensland, we reflect on our history and look forward to the years ahead,".  Mr Yates said.
"The 2024 event calendar not only introduces new benchmark events but also will continue with events that have flourished in previous years. We look forward to hosting a number of events that cater to all levels of surfers and invite the community to join us in the celebrations." 
2024 Sunshine Coast event dates
Julian Wilson Serious Fun – January 16
Sunshine Coast Junior Pro - April 6-11
Queensland SUP Titles - May 13
Kneeboard Titles - May 13
Queensland Longboard/Logger Titles - May 14-15
Masters Titles - May 16-17
Shortboard Titles - May 18-19
Woolworths QLD Junior Titles Event 1 - June 1-2
Woolworths QLD Grommet Titles Event 2 - June 8-9
These events are supported by Sunshine Coast Council through the Major Events Sponsorship Program.