Celebrating the life of Kathleen McArthur - Podcast Series: 1 to 22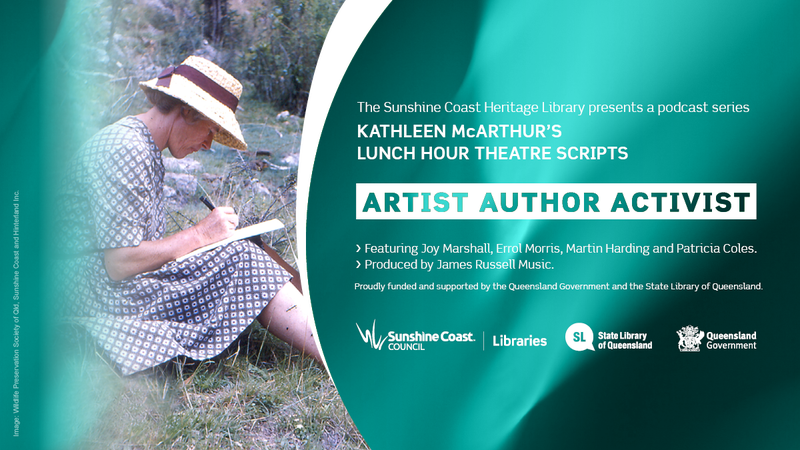 Artist. Author. Activist.
Take an audio journey through Kathleen McArthur's life in this new podcast series.
The legacy of Kathleen McArthur whose life blossomed on the Sunshine Coast has been captured in a new podcast series launched by Sunshine Coast Libraries.
Supported by the State Library of Queensland and the Queensland Government, Libraries have produced a podcast series of 22 episodes based on the Kathleen McArthur's _Lunch Hour Theatre Scripts_ Collection.
Founded by Kathleen McArthur, the _Lunch Hour Theatre Scripts_ series ran for more than twenty years with the vision of broadening public knowledge on environmental, biographical, and historical subjects. Many of the scripts focused on local and regional issues as well as providing an archive of historically significant portrayal of events, people, and places.
Kathleen McArthur campaigned to preserve landscapes threatened by economic development. She campaigned to preserve locations including the Pumicestone Passage, Great Barrier Reef, Sunshine Coast beaches, and the Cooloola National Park in the 1960s and 1970s.
Kathleen joined Judith Wright, David Fleay and Brian Clouston to form the Wildlife Preservation Society of Queensland in 1962. She then went on to found the Caloundra Branch of the society. 
The podcast series was produced by James Russell Music. It was voiced by Joy Marshall, Errol Morrison, Martin Harding and Patricia Coles.
Episodes were recorded at the Kawana Library StoryCast Studio, an initiative proudly funded and supported by the Queensland Government and the State Library of Queensland through the Strategic Priorities grants program.