Funding secured for next section of coastal pathway
An exciting new link in Sunshine Coast Council's beautiful coastal pathway will soon be constructed.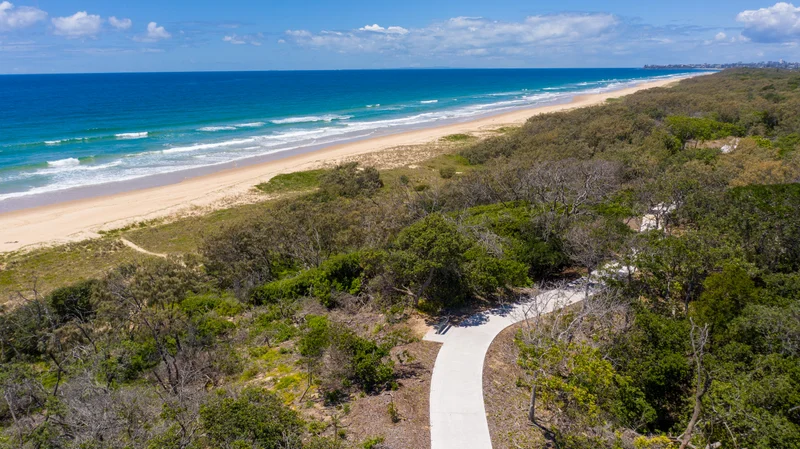 An exciting new link in Sunshine Coast Council's beautiful coastal pathway will soon be constructed.
The Warana section of Coastal Pathway forms part of the 73-kilometre-long route from Bells Creek in the south to Coolum in the north.
The coastal pathway is a multiple stage project which will be completed over several years subject to available funding.
In coming months, work will begin on the latest stage – between Beach access 233 (Coonang Cresent) to BA 229 connecting to the existing network at Koorin Drive.
For more information about construction phases and scope of works please visit council's website Warana coastal pathway construction.
Council's vision is for this pathway to be a world-class scenic route, connecting the coast through beaches, parks and open spaces. The pathway provides people with the opportunity to explore the coast's natural beauty, services and businesses.
These safe, connected pathways are great for residents to have some fun with family and friends and it's a really wonderful way of seeing the beauty of the coastline while staying active.
The Coastal pathway is part of the Sunshine Coast Council Community Strategy 2019-2041 which empowers our community to live a healthy and active lifestyle and meets the needs of people of all ages, abilities and backgrounds.
The pathway is being completed and funded thanks to a partnership between Sunshine Coast Council and the Queensland Government through the Department of Transport and Main Roads' Cycle Network Local Government Grants Program.
In addition to the Queensland Government's commitment, Sunshine Coast Council has allocated more than $1.377 million over the next two financial years to complete this next stage of the coastal pathway.
Council reminds everyone to share the path when out and about. All users should have respect for others and slow down, keep left, pass on the right, and don't block the pathway for others.
For more info about our Coastal pathway network visit: https://www.sunshinecoast.qld.gov.au/Experience-Sunshine-Coast/Pathways-tracks-and-trails/Coastal-Pathway
Coastal Pathway connections:
Coolum Connection: Coolum to Point Arkwright – 5.6km
Marcoola Connection: Point Arkwright to Mudjimba – 8.5km
Maroochy River Connection: Mudjimba to Cotton Tree – 12km
Maroochydore Connection: Cotton tree to Mooloolaba – 4.4km
Mooloolaba Connection: Mooloolaba Beach to Buddina Beach – 5.5km
Kawana Connection: Buddina Beach to Currimundi – 14.5km
Currimundi Connection: Currimundi Beach to Moffat Beach – 3.2km
Caloundra Connection: Moffat Beach to Bulcock Beach – 4.5km
Pumicestone Connection: Bulcock Beach to Bells Creek – 6km