BatPod choose your own adventure - Interactive Podcast Series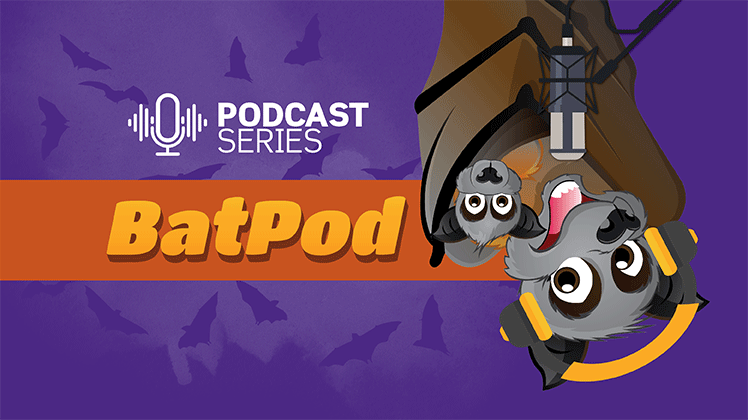 BatPod is a choose your own adventure series for ages 10–15 where you get to call the shots.  
We live in one of the most beautiful parts of the planet and we get to share it with some amazing creatures.  
Sometimes it can be hard living near them – take flying-foxes for example. These animals are vital to our environment but they can be noisy, smelly and messy neighbours.  
Your invited to join Tyron, and our team at Sunshine Coast Council, to try and problem solve ways to live alongside these animals peacefully.
Listen to BatPod below or on Spotify, Apple, YouTube or wherever you get your podcasts.
START HERE
Welcome to your first day one the job as a Junior Conservation Officer. Let's learn the roles and check out some flying foxes.
Episode 1
Continue your walk through the flying-fox roost and bump into Uncle BJ and Uncle Lyndon. They've got lots to share about language, culture, their feeling of responsibility to nature and of course, flying-foxes. 
Episode 1.1
So, you think Kawana is the answer – let's see if you were right… 
Episode 1.2
So, you think Currimundi is the answer – let's see if you were right… 
Episode 2
You've decided to carefully pick up the injured flying-fox. Are you sure that's a good idea? 
Episode 3
That poor injured flying-fox. You'd better tell Tyron straight away and make sure not to touch it.  
Episode 4
The flying-fox is now safe at the vet. Tyron got a call from a resident named Sam living near a 'nuisance' colony. They want to meet up and try and come up with a solution. You arrive at the site, speak with Sam, now YOU get to call the shots. 
Episode 5
You've decided to use the dispersal method. This one is 90 Batty Bucks, so hopefully it moves the flying-foxes on somewhere else away from Sam. 
Episode 6
Let's try and get a buffer in straight away, so the flying-foxes are a little further away from Sam and it doesn't affect everyone as much. 
Episode 7
There's a great reserve not too far from here. It is the perfect spot to create new habitat for the flying-foxes to live. It might take a little time to get it ready, so we'd better start there first.  
Episode 8
The roost is a new issue for the community. Starting with education will help locals better understand why flying-foxes are so important and will help people to co-exist with them, peacefully. 
Episode 9
The buffer worked pretty well, but Sam still isn't thrilled. Are you going to try the dispersal method now? 
Episode 10
Great idea, the buffer helped make things easier for Sam. We can get started on the long-term plan now and start creating that new habitat.  
Episode 11
Education is an awesome way for people to understand the importance of flying-foxes. As they understand their importance, they will learn to live alongside them.
Episode 12
Buffer – done. New habitat – done. Now it's time to better educate everyone on how important flying-foxes are! 
Episode 13
Education was really successful, but you still have 55 Batty Bucks which means you can afford to create new habitat for the flying-foxes and help Sam co-exist with them long-term. 
Episode 14
You did a great job handling that situation. It's important to take a whole approach by improving the current situation while looking for a long-term solution. Plus, you stayed within the budget. Let's see what you've learnt.  
Episode 15
Well done getting through to the end. Check out the answers for Episode 14.